What Can I Do if I Dislike My Smile?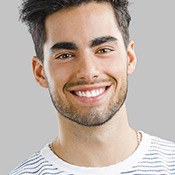 Genetics, trauma, and/or years of bad habits can take a heavy toll on your smile's health and appearance. You may have significant issues that make it difficult for you to speak clearly, enjoy your favorite foods, and participate confidently when your friends want to take photos of you. But don't despair! Our doctors can design a complete smile makeover for you. Using a combination of restorative and cosmetic procedures, we may be able to give you the beautiful, strong teeth and gums that you've always dreamed of.
Smile Makeovers Begin With a Consultation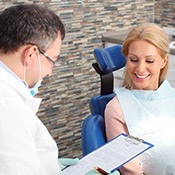 A smile makeover begins with a thorough exam and a frank conversation about the issues that are downgrading your mouth's health and appearance. You and your dentist may discuss such things as:
The factors that led to your smile's current undesirable state
How you can adjust your habits to make some minor improvements to your teeth's health and appearance at home
The various treatments that may be able to transform your smile
What you want your teeth and gums to look like when all is said and done
The monetary cost of your oral makeover
Before you come in for your appointment, give careful thought to the journey ahead of you. Write down any questions or concerns you have so you don't forget to discuss them with the dentist.
Testimonial
Chris A.
I was seen today and from the minute I walked in to leaving I was amazed by the kindness and friendliness of everyone and Dr Phifer was absolutely amazing thank you all for everything
2019-11-26T11:44:13-06:00
I was seen today and from the minute I walked in to leaving I was amazed by the kindness and friendliness of everyone and Dr Phifer was absolutely amazing thank you all for everything
https://flawlesssmiledentistry.com/blog/testimonial-rotator/chris-a/
Cosmetic Dentistry Treatments to Transform Your Smile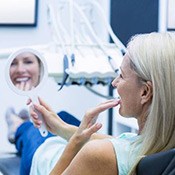 Here are some examples of treatments that our doctors may recommend that you undergo in order to get the results you want:
Extractions, followed by tooth replacement, can replace any teeth that are so badly damaged that there is no way to restore their health and appearance.
Tooth-colored fillings are able to fill in cavities without making your smile the victim of ugly dark spots. Similarly, porcelain crowns can restore badly damaged or misshapen teeth in a beautiful, seamless manner.
At-home or in-office teeth whitening may be able to remove years of stains and give your grin the brilliant luster you've always wanted.
Lumineers or porcelain veneers are able to cover a range of aesthetic flaws, including discoloration, asymmetry, minor misalignment, cracks and chips, and more.
Invisalign may be able to reposition your crooked teeth without subjecting you to the unpleasantness of metal braces.
Gum contouring can remove excess gum tissue, helping your smile to be more proportionate.
"Dr. Torabi and his staff, everybody here, they're first class. They take care of you. It's been an awesome experience, it really has."
See the Results Before You Commit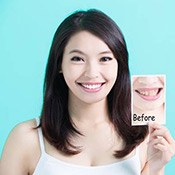 In many cases, a complete smile makeover is a lengthy and expensive process. The last thing you want is to invest a lot of time or money in transforming your teeth and then end up not liking the results. That's why we employ Virtual Smile Makeover technology.
Using a photograph of your teeth, our team uses special software to help you preview the results of certain procedures. The images you see, along with information from your dentist about the long-term prospects of any treatment you're thinking about undergoing, can help you make a confident and informed decision about your smile's future.
Schedule a Teeth Makeover Consultation in Broken Arrow or Claremore!
You aren't doomed to suffer with an unhealthy or unattractive smile. Contact us via phone, text, or email to schedule a consultation with our doctors today?
Related Content