A Wide Variety of Denture Options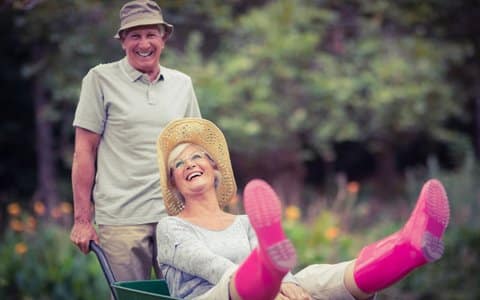 Do your missing teeth cause you grief when it comes to chewing and smiling normally? When you're missing a significant number of teeth, even simple activities like eating and speaking can start to seem overly difficult and unfulfilling.
At Flawless Smile Dentistry, we want to help you regain what was lost. A custom full or partial denture is a reliable, cost-effective solution, and today's advanced materials have made these prosthetics more lifelike than ever before. Contact our Claremore practice today to schedule an appointment!
Benefits of Dentures at Flawless Smile Dentistry
We provide a customized care plan.
Our team is concerned about quality results that look natural.
We make treatment affordable, so restored smiles are within reach for you!
Our denture options make sense for your oral health and your lifestyle.
We work hard to help you feel comfortable while providing efficient denture treatment.
Denture Options We Offer:
We provide several denture options for our patients. We want to help you smile again without worrying about missing teeth. Let's take a look at the denture options we can offer you:
Full Dentures
A full denture is meant to replace an entire bottom or top arch of teeth, and they're meant to stay secure in the mouth through natural suction and maybe a little dental adhesive for added confidence. Full dentures (and partial dentures) are removable for comfort, storage and convenient cleaning.
Partial Dentures
Partial dentures are recommended when the patient still has existing natural teeth along a single arch that they would like to preserve. The prosthetic is designed to fill the existing gaps, and it typically stays in place with the help of strategically placed clips or brackets.
Partial dentures can keep your natural teeth from shifting into the gap left behind by missing teeth. By preventing your teeth from shifting, we can also keep your natural teeth from suffering uneven wear.
Implant Supported Dentures
Many of our patients are looking into denture implants, or implant supported dentures. For valuable health benefits and added permanence, patients may choose to receive a denture that's been outfitted with
dental implants
.
Implants anchor your new teeth to your jawbone, creating a sturdy fit that feels just like natural teeth and won't slip out of place over time. For our patients with healthy jawbone structure and density, implant-supported dentures are a great option.
We are proud to offer the All-on-4® treatment concept, which is when we support an entire arch of teeth on only 4 implants! Ask us about this innovative treatment for missing teeth!
Implant-Retained Dentures
Some patients want to combine the removability of traditional dentures with the stability of implant supported dentures. The solution for these patients is implant-retained dentures!
We use implants to support posts that will secure your dentures to your gums. This means that your dentures are comfortably stable while you chew and speak but also removable for cleaning and sleeping.
Testimonial
Norma Kay H.
From the staff to the Dr. it was great very informative. If you like easy appointments that fit your busy schedule this is the place. Dr Phung was great very friendly an very genuine not only for my teeth but my health back ground. Jesse did a wonderful job quick an painless.
2019-11-26T11:45:05-06:00
From the staff to the Dr. it was great very informative. If you like easy appointments that fit your busy schedule this is the place. Dr Phung was great very friendly an very genuine not only for my teeth but my health back ground. Jesse did a wonderful job quick an painless.
https://flawlesssmiledentistry.com/blog/testimonial-rotator/norma-kay-h/
Dentures Can Improve Your Life!
Missing teeth makes you incredibly uncomfortable. Your missing teeth can keep you from enjoying your life because you are constantly coping with difficult speech and painful meals. Missing teeth can even keep you from attending social events and smiling throughout your day.
We want our patients to lead happy, healthy lives. If you need dentures or are considering our denture options, we can show you how the different types of dentures work and provide more information depending on your specific situation.
We're here to help you smile bigger and live better!
Frequently Asked Questions About Dentures
How do I know if I can get denture implants? When you come in for a consultation, we will check the health and density of your jawbone. Many patients qualify for one of our implant supported denture options.
Can my dentures fall out? Implant supported dentures don't fall out. Our traditional dentures are also designed to stay in place using suction.
I am missing teeth, but I still have some healthy ones left. Can I keep them? Yes! We prefer to help you keep your natural teeth as long as possible. We provide partial dentures for our patients who need to fill in sizable gaps between their healthy natural teeth.
Are dental implants uncomfortable? No. Over time, dental implants become part of your jaw. Many patients report that their new teeth feel like their natural ones did.
What is the difference between implant supported dentures and implant-retained dentures? The key difference is removability. Your implant supported dentures stay in your mouth the way your natural teeth did. Implant-retained dentures are removable, which some patients prefer.
Schedule a Denture Consultation in Claremore or Broken Arrow!
Flawless Smile Dentistry offers a variety of denture options so we are fully prepared to find a solution that works for you.
Do you have any questions about our denture options or would like to schedule an appointment? Contact either of our Claremore or Broken Arrow offices today! Our friendly staff can tell you more about your choices at Flawless Smile Dentistry or help you with scheduling.
Related Content