Using State of the Art Dental Technology to Improve the Patient Experience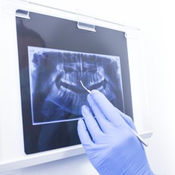 The Flawless Smile Dentistry team is dedicated to helping patients receive the dental care they need in a completely pain and stress free environment. By utilizing the latest dental techniques and technologies, we're able to ensure our patients receive the quality care they deserve quickly and comfortably. If you want to find out more about our dental technologies or schedule an appointment with our Claremore dentist, call us today. We look forward to helping you achieve and maintain your healthiest smiles.
Flawless Smile Dentistry's Dedication to State-of-the-Art Dentistry
Sedation Dentistry: Say "goodbye" to pesky dental nerves
Digital X-rays: Better diagnostics & less radiation
Digital impression system: High-quality impressions without dental putty.
3D Digital X-rays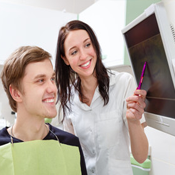 X-rays are some of the most traditional tools used by dentists. They have been helping us diagnose and treat dental maladies for over a hundred years.
Three-dimensional scanning has taken this already amazing technology to a brand new level. The conversion of a 3D object to a 2D image has always been a little difficult, in terms of what information you can and cannot see from the image, but 3D scanning eliminates that problem.
By taking an image from multiple angles with a beam that is specially shaped to pick up every aspect, 3D digital x-rays help us see all of the teeth as well as each one of the nooks and crannies that might otherwise remain hidden in a 2D scan.
Learn More About Digital X-Rays
Soft Tissue Laser
Instead of relying on traditional scalpels, our team utilizes an advanced soft tissue laser for periodontal treatment, aesthetic gum recontouring, and other necessary services. There are several valuable benefits to this method – the oral tissue can be treated and removed with more preciseness than ever before, and bleeding is greatly minimized to the point that sutures aren't necessary. Patients are able to stay much more comfortable throughout the process!
Cavity Detection System
Cavities are one of the most common oral health problems – in fact, over 90% of the population will experience one or more over the course of their lives. At Flawless Smile Dentistry, our team wants to help you avoid as many as possible, and we can do so better than ever before with our cavity detection system. Now, a simple scan will reveal minor areas of tooth decay that aren't even visible to the naked eye yet, allowing for easy preventive care and a healthier smile overall.
3D Cone Beam Scanner
For more advanced dental treatments, we use the state-of-the-art 3D cone beam scanner to capture complete pictures of how the oral and facial structures function together. We use cone beam scans to plan for Invisalign orthodontics, dental implant supported tooth replacement, and other advanced treatments. Rather than the two dimensional images from the traditional x-rays, we're able to see a complete three dimensional view of a single tooth or the full smile.
Intraoral Cameras
We want to be your partner in oral health — and that means equipping you with the information you need to make informed decisions regarding your smile. With the intraoral camera, we can include you in your treatment plan. It is a small, handheld tool with a tiny camera at the end. our doctors uses it to capture high-quality images of your mouth, which are then transferred onto a small screen right beside your chair. With the intraoral camera, your dentist can then easily point out problematic areas, showing and telling your what's going on in simple, jargon-free language.
Learn More About Intraoral Cameras
Digital Impressions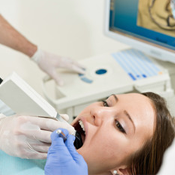 Traditional bite impressions require patients to bite into a goopy putty. This putty hardens creating a mold of a patient's bite. These impressions are then delivered to the dental lab where a restoration is crafted. Digital impressions allow us to more quickly and comfortably capture bite impressions without the messy putty. Like our other digital technologies, these impressions are immediately accessible on chairside computer monitors, and they can be delivered instantly to the dental lab or used in conjunction with our state-of-the-art CEREC same day dentistry system.
CEREC Same Day Dentistry
Traditional dental restorations had to be completed over the course of two appointments. During the initial visit, we would prepare teeth and design the restoration. Then, a temporary crown or bridge would be placed to protect the prepared smile from damage, and patients would return after we received the final restoration to exchange the temporary for the custom crown or bridge. The state-of-the-art CEREC system allows us to complete the entire restoration process in our dental practice, delivering flawless, healthy smiles in just one appointment. We prepared the teeth to be repaired, removing tissue as necessary. Then, we use digital bite impressions to capture scans of the prepared smile. These scans are delivered to our chairside computers where we design the restoration. The design is sent to an in-office milling unit where your tooth-colored dental restoration is crafted. Then, we place your restoration, and you leave our office with a flawless smile.
Dental Technology & Improved Patient Experience
At Flawless Smile Dentistry, we are dedicated to helping our patients experience pain and stress free dental care that exceeds their highest expectations. By investing in the latest dental technology, we make it possible for patients to receive the care they need more quickly and comfortable, and we are able to deliver the highest quality results. Digital x-rays and images allow patients to clearly see areas for concern and better understand their treatment options. We can also complete services more quickly with our CEREC same day treatments, and by instantly transferring digital smile designs to our labs, we cut down on time between preparation appointments and the final dental restoration. Patients receive the safest and most comfortable treatment in our state-of-the-art, Claremore dental office, and we look forward to offering you a different kind of dental care experience.